You have seen and played with Nerf Guns but the best laser tag gun Sets will really put a pressure to your nerves. These are way more fun and practical than the regular air powered or motored toy guns as you don't have to go and physically collect the bullets and with zero fear of the gun jamming, you can have all the excitement in the world. With no further ado let's take a look at the best models of the laser tag sets that our experts have picked up for you. Do check their reviews to know the best laser gun that matches your need. Before you get down to the main reviews you should take a note that, by shields that comes included on the set, we mean the vests that registers the laser shots you get and they don't tend to protect you.
1. Vatos Infrared Laser Tag Set – Decent Infrared Laser Tag Set for Endless Fun
You have everything you need on the Vatos Infrared Laser Tag Set. It comes in a set of four and all the guns are individually colored red, blue, white and orange. The shields are also in the respective colors so that you don't have any difficulty in figuring out who's your enemy and who's your alley. Four teams can play with this set and there are also four different shooting styles on the guns. They are Pistol, Shot Gun, Machine Gun and Rocket each doing an individual level of damage to the 3 lives you have. If you just want a regular laser tag set then we highly recommend you this model.
Four Colored Guns
Four Firing Modes
The Vests are Cool too
No Charging System Included
Brand: Vatos Infrared Laser Tag Set
Model: B07FXSD8F6
Weight: 3.63 lbs
Dimensions : 10.3 x 9.3 x 7.2 Inches (3 x 1.5 Volts AA Batteries)
Rating : 4.5 / 5.0
2. Blazery Lazer Tag Gun Set – Awesome Looking Guns With Rechargeable Batteries
You know what's the biggest problem with laser tag guns? They work with batteries what will eventually run out of power. Getting new packs of batteries can be a real pain. If the batteries are rechargeable then you can have all the fun in the world. This is perhaps the best feature of this laser tag gun set that it comes with rechargeable batteries and a charger so that you never run out of power. Also, the guns look astonishing. They even come with tactical flashlights so that you can take your game to the next level and play at night as well. With all these great features, this set of gun will cost you twice the price of regular models. Maybe the price is just for the packs of rechargeable batteries and the charger what you eventually had to buy.
Comes with rechargeable batteries and charger
The guns are equipped with tactical torches
Great looking guns
All the batteries are hard to charge altogether
Brand: Blazery Lazer Tag Gun Set
Model: B07FXWFMTQ
Weight: 5.23 lbs
Dimensions : 14.9 x 13 x 4.7 Inches (3 x 1.5 V Batteries on each gun)
Rating : 4.0 / 5.0
3. Mini Horse – Ideal Laser Tag Set for Gifting
If you are looking here looking to gift your children or nephews to gift a laser tag set then this could be a good choice. The price is well balanced and the products are of a good build quality too. The play set comes with four laser guns and four amours. The amours are available only in blue and red colors. But, kids shouldn't be too worried about it as they can be lit up in four different colors meaning that four teams can participate on the game. Other than these it shares all the standard features of a laser tag set like having three lives, different shooting modes and all that. This is indeed an ideal laser tag set to gift children you love. Even adults can have fun with this set of toys.
Nice Price and Build Quality
Vibrates if shot or shot at
Good Battery Life
The shields could have been made better
Brand: Mini Horse
Model: B07G4G8YGQ
Weight: 3.59 lbs
Dimensions : 10 x 9.4 x 7 Inches (24 AA Batteries for the whole set)
Rating : 4.5 / 5.0
4. Power Tag – Best Selling Laser Gun Tag Set for 6 players
This is perhaps the best deal on our list as it is a set for 6 players. The power tag laser tag set includes 4 laser guns, 4 shields and 2 battle blasters. Remember, it only comes with 2 battle blasters. So, what you are ultimately getting is 4 vests and 6 laser shooters. Also, you can only select four colors on the gun only offers four colors meaning that only four teams can participate on the game. Even after that, having those two battle blasters can add more to your experience with the gun. It is something whole family can have fun with. The price is also perfect but remember, you will be needing a whole lot of batteries to power up the whole set.
Comes with two additional wearable battle blasters
Cool alien ware looking guns
Long firing range making things more interesting
Some batteries may not be a perfect fit inside the guns
Brand: Power Tag
Model: B07G4G8YGQ
Weight: 5.87 lbs
Dimensions : 12.6 x 11 x 7 Inches
Rating : 4.6 / 5.0
5. Thrillzone – Cheapest Laser Tag Gun Set on Our List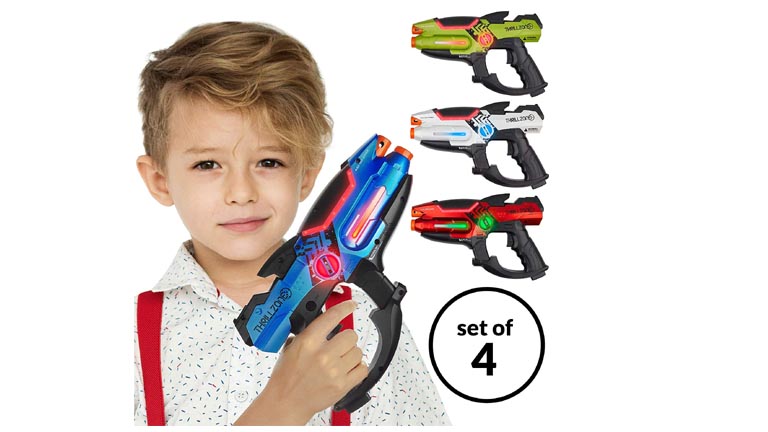 This is the cheapest set that we could find for you. However, this may not guns made of optimal quality but they can surely be fun and exciting. The Thrillzone is cheap because it doesn't come with any shields. It has four laser guns and the guns are pretty good looking. They are a bit plasticky but they can perform accurately up to a good distance. If you want 'just' a laser tag gun set to have the experience of laser tagging games then this can be an ideal pick. However, it shares all the features of a laser tag gun set but doesn't come with vests. The price tag makes up for everything.

Perfect for gifting
Lifetime warranty
Great Price
Shields are not included in the set
Brand: Thrillzone
Model: B0778WD3ZT
Weight: 3.66 lbs
Dimensions : 12.4 x 9.7 x 6.9 Inches(3 x AA 1.5v Batteries)
Rating : 4.5 / 5.0
6. Best Choice Products Rifle Blaster – Not Guns But Rifles
This one is also a cheap set but the special feature of the set is that, it has taken things to the next level. These are not guns but rifles that shoot infrared lasers. We must say that the guns are really cool looking and all the four guns are of four different colors. Also, as they are not guns but rifles, they have a longer shooting capability. We should note here that, the set also doesn't include shields. But that won't affect your game play much. The status panel is not merely a laminated panel on this thing but it looks kind of an actual display. Other than these, all other things like the shooting modes, lives are standard on this thing.
Attractive and Interactive Design
Long Firing Range
Sounds and Vibrations are Great
Too much power consumption resulting in reduced runtime
Brand: Best Choice Products Rifle Blaster
Model: B07CX3RQ75
Weight: 8 lbs
Dimensions : 20 x 6 x 8 Inches (4 x AA 1.5v Batteries per Rifle)
Rating : 5.0 / 5.0
7. Jiggle N Smiggle – Best Laser Tag Gun Set for Kids
If your targeted recipients are smaller kids then you can definitely pick up this set. The laser tag guns are more suited on children's hands. The guns are vibrantly colored as well as the vests. There are four tag guns and four vests and all of them are individually colored blue, red, orange and green. So, 4 teams can easily play with this thing. Another great thing that we should note about the set that it has a great run time meaning that kids can play for a very long time and keep themselves busy. Laser tag sets are always safer than nerf guns and there's almost zero possibility for kids to get hurt with these. This can be a great gift for a kid's birthday party if the kid is a fan of action.
Brightly neon colored
Good Build Quality
Energy Saving
Not that suitable for big kids
Brand: Jiggle N Smiggle
Model: B07DCB4DGQ
Weight: 6.91 lbs
Dimensions : 15.2 x 13.2 x 8 Inches (4 x Guns + 4 x Vests + 8 x Buckled Straps + 1 x Owner's Manual + 1 x Warra
Rating : 4.5 / 5.0
8. Lukat – Perfect Laser Tag Set on a Decent Price (Recommended)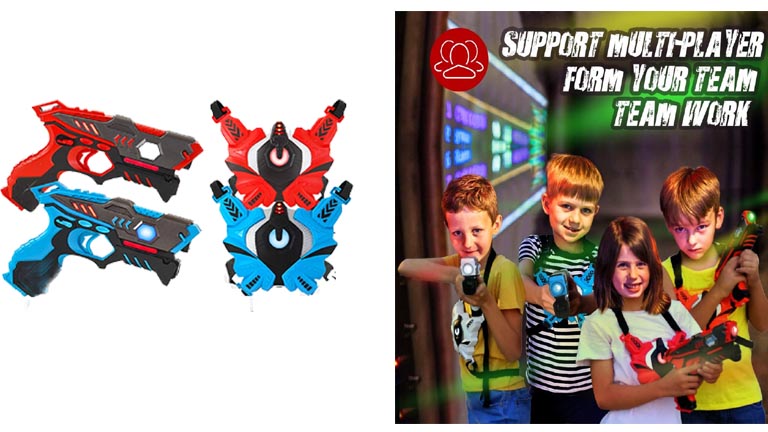 Lukat here is the all-rounder on our list. The looks are perfect on this thing as well as the price for this set of 8 laser tag set. You will get 4 laser guns on the set that looks really cool and beautiful and they also come in four different colors as well. The guns have a long firing range of 150 feet means that you can have more fun and you can also have the luxury of playing outside. You can easily toggle between the firing modes on this thing. Each of the modes come with their own damaging capabilities that affects the three lives of your opponent. Whether as a gift or for your family, the Lukat is the most perfect backyards laser tag set that you can get.
Good looking handsome design
Lightweight
Long Firing Range
Nothing Noteworthy to complain about
Brand: Lukat
Model: B07F9SDJWB
Weight: 3.65 lbs
Dimensions : 10 x 9.1 x 7.4 Inches
Rating : 4.5 / 5.0
9. Nerf Phoenix LTX – The Goodness of Nerf on a Laser Gun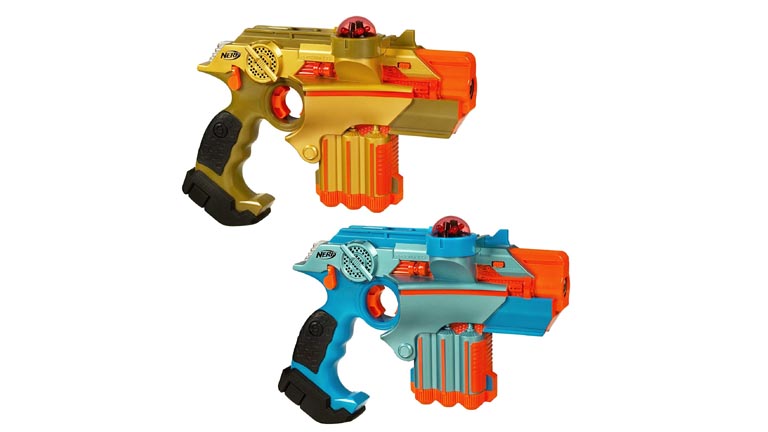 Your looking for laser tag gun simply implies that you know what Nerf guns are and how they operate. Now, Nerf hasn't changed their pump action attitude and adapted to laser shooting entirely but they have this mention worthy gun in their collection. The biggest thing that you will note in this gun is that, it looks more like a Nerf gun and the looks do not match any other infrared laser shooting guns. But the guns feel really good on hands. There's another model that Nerf offers, The Laser Ops Burst Fire Combat Blaster is sold separately and hence we haven't enlisted it here. If you are a true fan of Nerf then you should have this piece in your collection.
Ergonomic Design
Fun for 2
Cheap
Only 2 guns on the set and nothing else
Brand: Nerf Phoenix LTX
Model: 926922050
Weight: 2.8 lbs
Dimensions : 12.1 x 14.9 x 4.4 Inches (6 AA 1.5v Batteries for the whole Set)
Rating : 4.4 / 5.0
10. Laserwar AK 12 LT – Laser Tag Rifle for Big Boys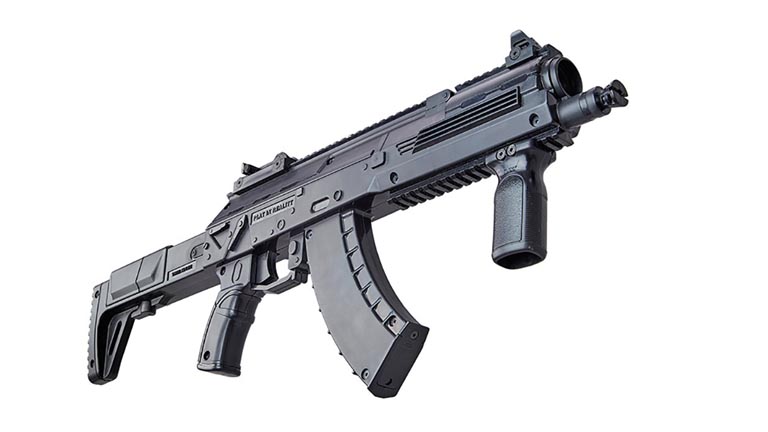 This is the closest a laser tag rifle can get to a real model. The AK 12 LT has been designed by professional gun makers and having its 1 kg weight it feels a lot like a real gun too. If you are an adult or if you are in your teen age then those childish laser toys shouldn't be suitable for you with their bright shiny colors. You even have to buy the death or defeat sensor separately. Now, newer versions do have some improvements on the triggers, attachments but without the death sensor you won't be able to play anything with it. The manufacturer should take a look at this. However it has a massive firing range over 275 feet and the scope can provide a clear target up to 230 feet. Take a note here that, you can't select teams on this thing. That's why you have dress up as different teams. But it can surely give you a real tactical warfare experience.
Feels like a real rifle
Gives the experience of a real tactical warfare
Suitable for adults
Should not be ideal for kids
Brand: Laserwar AK 12 LT
Model: B07D6TF1C7
Weight: 2.2 lbs
Dimensions : 70 Cm (2.2 Ah Lithium ion Batteries included inside )
Rating : 5.0 / 5.0