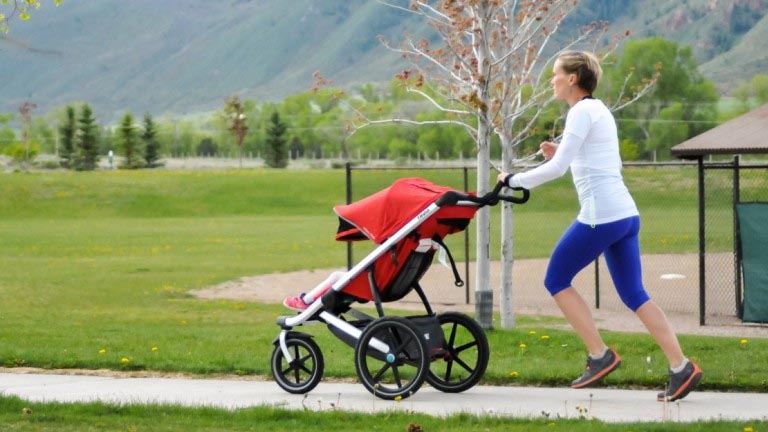 Parents who are not willing to leave their kid at home while going out for a jog deserve the best jogging strollers. Now, you may ask that what's wrong in using a regular stroller while jogging and why do you need a separate stroller just to jog and carry around your child?
Well, all of these questions are going to be answered below with the reviews of the top jogging strollers that you can pick up for your kids. Now, check out the models that our experts found perfect for daily use.
1. Joovy Zoom 360 – Run with the Wind
The Joovy Zoom 360 is an one of a kind stroller that has the perfect balance of being lightweight and durable at the same time. Now, there are some misconceptions that this stroller is made of a graphite aluminum compound material frame. In reality the graphite is just color that has been applied over the actual metal frame.
The stroller comes with a swivel front wheel and from there it has got its name 360. The 12 inch wheel in front makes the stroller really easy to maneuver. Also, if you want you can lock it to a straight position. This will prevent the stroller from making any unnecessary direction changes.
Among other features of the stroller, we should mention about its ability to adapt car seats. We also liked the way this seat folds. There are also other features for the parents like the parent organizer and mesh pockets to make things easy for them. The stroller would have been greater if it could be folded easily.
Light as feather
Easy to maneuver
Folds to a compact size
Folding the thing can sometimes be a hassle
Brand: Joovy Zoom 360
Model: 8067
Weight: 25.7 lbs
Dimensions : 46 x 25 x 54 Inches ( 19 x 25 x 34 Inches Folded )
Rating : 5.0 / 5.0
2. Schwinn Interval – Most Comfortable Jogging Stroller
Schwinn is already a popular name in America. Interval is the best model of stroller that they have came up with. Originally as a manufacturer if bi-cycles, they have left their signature on the stroller by adding air filled tires. Another great thing that they have added on the jogging stroller is a set of shock absorbers on the rear wheels.
The combination of the air filled wheels and the shocks give the highest level of comfort to your child. Like all other jogging strollers this also comes with lockable swivel wheel in the front so that your front end doesn't change directions while you are jogging fast.
The interval also features a wide retractable canopy and adjustable handle with cup holders. There's also a tray for the kid on this thing. Plus, you get a big space to keep your things under the seat. All of these features make the stroller really ideal for daily use especially on rough terrains.
Great shock absorbing capability making it ideal for hiking as well
Really comfortable from all possible angles
A lot of extra space for things
Some might face issues with the weight and height of the stroller
Brand: Schwinn Interval
Model: CV309EHM
Weight: 35 lbs
Dimensions : 15.2 x 20.1 x 35.2 Inches
Rating : 4.7 / 5.0
3. Mountain Buggy Terrain Stroller – Most Premium Jogging Stroller
Here is an interesting fact; you can get a decent jogging stroller with six times less price than this one. Then, why would you get a mountain buggy? Because it's mountain grade. The finest that your valuable money can ever buy for the kid that you love the most.
Now, if you think about things from this angle then nothing else will matter. However, this stroller has everything that it needs and we are not going to the details about the specs. The real deal here is that it's simply the best when it comes to strollers and to be more specific jogging strollers.
The way the stroller has been designed to maneuver is really outstanding and it can literally take any sort of roughness that comes on the way. If you can afford then we would highly recommend you this stroller.
Built with premium materials and craftsmanship
Durable, really durable
Optimal safety and comfort
Obviously the high price tag
Brand: Mountain Buggy Terrain Stroller
Model: B0785WBKPZ
Weight: 28.5 lbs
Dimensions : 36.6 x 24.8 x 15.3 Inches
Rating : 5.0 / 5.0
4. Costzon – The True All Terrain Lightweight Jogging Stroller
For those living a little bit outside city areas this should be their ideal pick. The costzon is an ideal off roader when it comes to strollers. So, if you think that your joggings are mostly done through hill tracts or through forests or places where there is no actual road then look no further and get it.
Another great feature that we must mention is the weight. The manufacturer has shaved off all the unnecessary weights from the stroller and even after being a stainless steel frame it's one of the lightest jogging strollers that you will ever meet on the market.
If you have the habit of letting go strollers unnoticed you better put on the strap that comes with this one and perhaps with no other models. This is indeed a safe, comfortable and fun to push around stroller for any terrain.
Lightweight
Equipped with rubber tires for all terrains
Comfortable for kids
Your child's car seat might not be suitable for the stroller
Brand: Costzon
Model: B07HD5MFM5
Weight: Weight: 22 lbs
Dimensions : 40.5 x 22 x 42 Inches
Rating : 5.0 / 5.0
5. Bumbleride Speed – Most Beautiful Premium Jogging Stroller
The first thing that we have to note is that, it's the most beautiful stroller on our list and also it falls on the premium category making it a jogging stroller that's not within everyone's reach. There are some people who prioritize the aesthetics over anything else and the Bumbleride Speed is made just for them.
It's a beautiful modernistic touch to the whole thing that everyone will appreciate.
Also, if you believe in green then there's good news for you. The whole thing is made of eco friendly fabrics and it's entirely made of recycled plastic bottles. There are three different steering styles on this thing making it convenient for any situations where you are running, jogging or simply strolling around.
Now, if you think that you are a fast runner and often like to run fast and want to run with your child then we recommend you this stroller as it can take your speed where other jogging strollers may not be able to cope up with you.
Beautiful to look at
You can run with it, not just jog
Comes with three different controlling modes
The price
Brand: Bumbleride Speed
Model: SP-300DG
Weight: Weight: 24 lbs
Dimensions : 39 x 25 x 46 Inches
Rating : 4.9 / 5.0
6. Thule Urban Glide 2.0 – Perfect Jogging Stroller for Urban Environment
The urban glide 2.0 is perfect for jogging around the city. Most of the models that we have talked about so far were mostly built for off road jogging but this one here is really great for city. The Glide 2.0 has specifically been designed to meet the needs of city people. Ti has got rubber tires that are air filled and the whole thing folds beautifully for your convenience.
It looks good and felt really easy to steer due to that swivel wheel. You can also lock it if you want to jog and want no unnecessary direction changes. There's another cool feature of this thing. The handle bar comes with an integrated brake that allows you to slow the stroller down with the twist of your wrist.
The whole design seemed really compact and user friendly. There's enough space for your kid and for other things as well. It also comes in different color schemes that are just really great. And with the presence of suspensions, this stroller is really comfortable. Also, this has a huge maximum weight limit of 75 lbs.
Convenient design
Maximum weight limit of 75 lbs
Comfortable for the kid
Needs regular care
Brand: Thule Urban Glide 2.0
Model: 10101923
Weight: Weight: 25.3 lbs
Dimensions : 22.8 x 34.3 x 13.4 Inches
Rating : 4.5 / 5.0
7. BOB Revolution Pro – Best Downhill Jogging Stroller
The Revolution has one of the best suspensions that you will ever find on a jogging stroller. It's not merely just a set of springs attached to the stroller. You will be amazed to see the level of comfort this stroller has to offer to your child. You know, what else this stroller has got? Brakes, yes actual drum brakes attached to the rear wheels.
The brake on this stroller can be applied directly from the handle as there's a dedicated brake lever which is indeed a rare feature to find on strollers of premium class. However this lever give you the impression of having a true jogging stroller and indeed it's a important feature as you want the speed of your stroller match your pace. The brakes are handier on downhill areas.
Other than these, it's a greatly built stroller that can last for a very long time and perhaps the only one you will ever be buying. Indeed the BOB Revolution Pro is a true off road stroller.
Comes with brakes with levers
Great set of suspensions
Sturdy design
A few car seat computability issues
Brand: BOB Revolution Pro
Model: U631856
Weight: Weight: 30.5 lbs
Dimensions : 44 x 25.4 x 43 Inches
Rating : 4.7 / 5.0
8. Chicco TRE – The Jogging Stroller for Car Seats
Whenever we talk about baby equipments, the name Chicco will always eventually find its way. The brand already produces some of the greatest strollers and child car seats that are hugely popular on the market. TRE is a jogging stroller developed by them and we must say they have been sincere while developing the jogging stroller.
We have selected as the model that welcomes almost all the car seats on the market. You can easily take apart the seat on this thing to make room for the car seat. This one would be great for the parents who go jogging to any park. If going to jogging requires a little bit of driving then go with this stroller as it will more convenient for you.
There are tons of other good things that we can say about the stroller and we think we are going to skip that as you already know the reason of its making to our list. This one also features a brake and the thing is designed for performance.
Brand: Chicco TRE
Model: 07079103840070
Weight: Weight: 28.5 lbs
Dimensions : 47.5 x 25.5 x 42 Inches
Rating : 4.8 / 5.0
Brand: Chicco TRE
Model: 07079103840070
Weight: Weight: 28.5 lbs
Dimensions : 47.5 x 25.5 x 42 Inches
Rating : 4.8 / 5.0
9. Baby Trend Xcel – Cheapest Jogging Stroller
We usually enlist the posh strollers with the biggest price tags on the end but for this article and will recommend you go with the models that we have enlisted so far as they have more value for your money. However, the Baby Trend Xcel is the cheapest model that our experts could come up with. This one has all the necessary features that a jogging stroller need to have.
First of all it has got three wheels and the wheels come with bicycle tires. The front wheel on this thing can be locked and unlocked to match your need. Among other things you get a really comfortable seat on this thing that is adjustable and a practical canopy as well.
If you are looking for a spare jogging stroller than this would be perfect. However the lack of suspensions can give the kid a rough time on uneven roads but for smooth roads it's just fine. If you want a jogging stroller that you are going to use for a very long time then we highly recommend you to next model.
Brand: Baby Trend Xcel
Model: JG95522
Weight: Weight: 28.8 lbs
Dimensions : 47 x 21 x 41 Inches
Rating : 4.7 / 5.0
Brand: Baby Trend Xcel
Model: JG95522
Weight: Weight: 28.8 lbs
Dimensions : 47 x 21 x 41 Inches
Rating : 4.7 / 5.0
10. Baby Trend Expedition – Best Cheap Jogging Stroller
On the low end price segment, Baby Trend is currently leading the jogging stroller market and the Expedition is perhaps the best stroller that they have to offer on a around hundred dollars budget. The Xcel for some people have proven to lack comfort for the kid. But in the Expedition, you might not be facing such issues as it has larger set of wheels that deal better with the bumps of the road.
They have also added some convenient features on the stroller like the cup holders and the extra space for carrying things. You can get the stroller on different colors.
However, it's a great budget friendly stroller but the manufacturer should have been a more little careful while designing the stroller to make it more long lasting and sturdy. Otherwise, it's a great jogging stroller.
Bigger wheels
Comes with cup holders
Available on different colors
Not sturdy or comfortable enough
Brand: Baby Trend Expedition
Model: JG94710
Weight: 27 lbs
Dimensions : 47 x 21 x 41 Inches
Rating : 5.0 / 5.0