A bidet seat is an electric personal hygiene unit that replaces your regular toilet seat and assists you in cleaning your rear with an adjustable flow of warm or cold water. Using water is more hygienic, more effective and easier way to clean than using toilet papers. Getting the best bidet seat is a tricky task. There are all sorts of seats with vivid features and they are sold in a wide price range. To help you with that, we have sorted the top ten bidet seats for you. Check out the review list below to understand theproducts better.
1. Luxe Bidet Neo 320 – Best Mechanical Toilet Seat [Editor's Pick]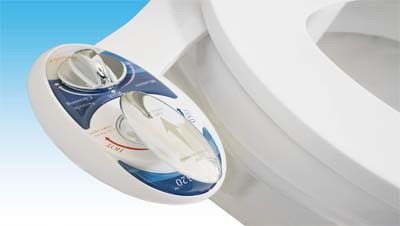 Luxe Bidet has always been popular as a bidet seat due to its easy installation and operation. If you are in search of a bidet seat for people who need assistance after using the toilet, this is the best thing to get. Being a mechanical model there's no complexity on the installation and operation. There are just two chrome plated knobs and livers in it and that's all. The 320 can serve both cold and hot water. The price is really great too.
Easy operation for everyone
Serves both hot and cold water
Easiest to install
Less control over the flow angle
Brand: Luxe-Bidet-Neo-320-Non-Electric
Model: Dimensions: 13.5" x 7" x 3"
Weight: 2.1 lbs
Dimensions :
Rating : 4.5 / 5.0
2. Luxe Bidet Neo 120 – Easiest Mechanical Bidet Seat to Use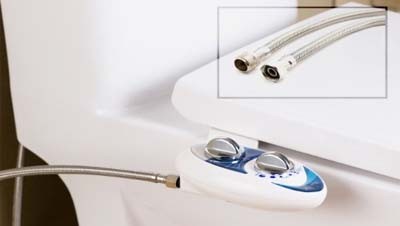 The Neo 120 is one of the cheapest bidet seats that you can buy. This is also a mechanical bidet and cheaper variant of the 320. The main difference on both the models is that the 120 only comes with the cold water channel. If you live in a warm area where the temperatures don't fall too much on winters, this should be enough for you. Everything you need for the assembly comes in the package and like all other mechanical bidets, the installation is super easy. This thing will surely last for a very long time before you face any kind of leakage or anything else.
Super easy 10
minute installation
Everyone can use it
Comes with all the accessories
Less control over the angle of the nozzle
Brand: Luxe-Bidet-Neo-120-Non-Electric
Model: Dimensions: 12" x 6" x 6"
Weight: 1.8 lbs
Dimensions :
Rating : 4.4 / 5.0
3. Astor – Cheapest Mechanical Bidet Seat to Buy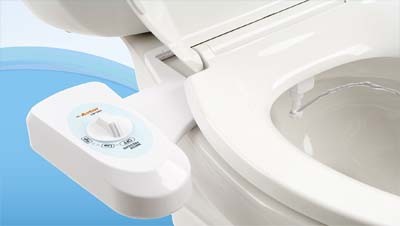 If you want 'just a bidet seat' then look no further and get the Astor. First of all, you can't or shouldn't get any bidet seat cheaper than this one. This seat is the most primitive it can get. It just has the seat section, a nozzle inside it and a knob that says fast, slow and off. Well, sometimes that's all you need. We are not gonna talk much about it except for the fact that, being a simple product, it can last for a very long time.
Simple
Cheap
Long Lasting
Nothing but the water pressure can be controlled
Brand: Astor-Non-Electric-Mechanical -CB-1000
Model: Dimensions: 17.7" x 7.8" x 3.9" (package)
Weight: 1.9 lbs
Dimensions :
Rating : 4.5 / 5.0
4. Zen Bidet Z-500 – Good Quality Mechanical Bidet
'Quality' should be the one word to describe the Z-500. This bidet is made of all the high-quality components that make it really long lasting. This bidet comes with two nozzles and the controls are really easy too. It's not a seat, so doesn't make the whole situation bulky. It seats comfortably below your toilet seat and you can channel both hot and cold water through this one. If you don't want anything fancy then we'd recommend you to use this on your toilet.
Optimal build quality
Both hot and cold water channels
Compact and sleek design
The nozzles are fixed
Brand: Zen-Bidet-Z-500-Components-Temperature
Model: Dimensions: 17.7" x 4.1" x 11.2"
Weight: 2 lbs
Dimensions :
Rating : 4.6 / 5.0
5. TOTO C100 Washlet – Best Selling Electric Bidet Toilet Seat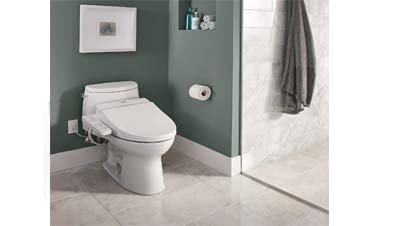 Up to this point, we have been talking about the mechanical bidets now we are going to enter the electric bidet seat section. The Washlet is the most popular electric bidet on the market. The best thing about electric bidets is that they come with tons of features and the controller is just amazing. The C100 has two nozzles and the only thing it lacks is the warm water channel. Even the nozzle is intelligent enough to clean itself before and after use.

Good Control
Adjustable nozzle
Oscillating features
Not convenient for warm water
Brand: TOTO-SW2034-01-Electronic-Elongated
Model: Dimensions: 23.5" x 20.5" x 9"
Weight: 16 lbs
Dimensions :
Rating : 4.5 / 5.0
6. BioBidet BB-600 – Best Children Friendly Bidet Seat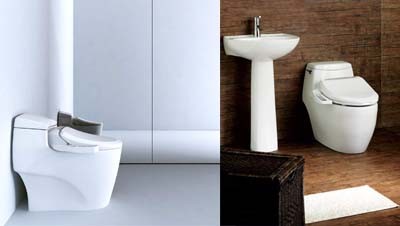 If you are looking for a bidet seat for your kids, the BB-600 should be the wisest pick. Well, most of the bidet seats are focused for women and elderly people but this one comes with a kids button on the control panel. The whole thing is designed to make you comfortable. This bidet is reasonably priced compared with the high-end premium models but shares almost all of their features. The seat of the BB-600 is heated and comes down slowly.

Designed to ensure comfort
Energy saving
Smart nozzles
Tricky installation
Brand: Ultimate-Elongated-Installation-Adjustable
Model: Dimensions: 20.47" x 18.4" x 5.6"
Weight: 27 lbs
Dimensions :
Rating : 4.3 / 5.0
7. SmartBidet SB-1000 – Classic Korean Electric Bidet
This is a high-quality electric bidet seat imported from Korea. The SB-1000 comes with a turbo mode that sometimes can be really efficient. Water pressure, temperature, nozzle position seat heat, air dryer everything in the bidet is adjustable. This makes the bidet really cool. If you want things just the way you like then this should be your first choice. Also, the quality of the whole thing is really great.

Everything's adjustable
Comes with a remote
Good build quality
The dryer is a little bit underpowered
Brand: SmartBidet-Electronic-Temperature
Model: Dimensions: 20.6" x 17.9" x 7.3"
Weight: 10 lbs
Dimensions :
Rating :
8. KOHLER C3-230 – Most Elegant Bidet Seat on the Market
This seat comes with a touchscreen remote control. The whole thing so elegantly designed that you won't even notice it sitting on your toilet. It has all the necessary features of an electric bidet seat and on top of everything, it makes your bathroom look nice. You will surely notice the attention to details that Kohler has put into while designing this seat so that you can get maximum comfort and sanitization. This is just an amazing bidet seat one can hope for.

Comes with a touchscreen remote
Cleans the nozzle with UV sanitization
Lights up the bowl
Some users claimed to have issues with the nozzle head
Brand: Kohler k-4108
Model: Dimensions: 20.4" x 17.1" x 6.1"
Weight: 10 lbs
Dimensions :
Rating : 3.8 / 5.0
9. Brondell Swash 1400 – Most Premium Bidet Seat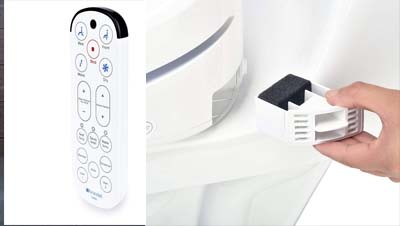 The Swash has only one goal, that's to comfortably sanitize you after you use the toilet and undoubtedly it is best at doing its job. Now, there are many models of electric bidet seats that come with heavy price tags and tons of other features but sometimes they fail to fill up their main purpose, cleaning. The Swash 1400, however, will never fail you. This one's perfect for all modern American toilets and American people. Don't compare it with the Asian products.

Specifically designed for American toilets
Cleans better than others
Fully Customizable
Nothing noteworthy
Brand: Brondell Swash 1400
Model: Brondell Swash 1400
Weight: 14.3 lbs
Dimensions :
Rating : 4.3 / 5.0
10. TOTO S350e – Best Electric Bided Money Can Buy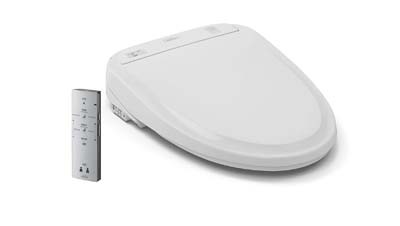 We have enlisted the S350e because it's the most advanced electric bidet seat we could come up with. Also, it's one of the most costly ones that you will find. The S350e is so advanced that it has its own memory. You can set 2 user profiles on this. It's the best bidet TOTO has come up with. You will even get features like auto open and close, night light, direct heated water and everything. Indeed it's everything you can expect from an electrical bidet seat.

Smartest bidet
Have all the basic features
Design nicely mingles with the décor
Nothing noteworthy
Brand: Toto S350e
Model: Dimensions: 20.8" x 15.3" x 3.9"
Weight: 13.5 lbs
Dimensions :
Rating : 4.3 / 5.0